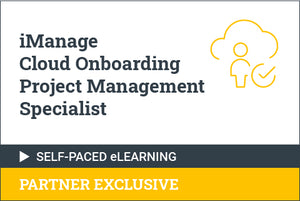 iManage Cloud Onboarding Project Management Specialist - Self Paced for Partners
This product is only available to iManage Partners - registrations will be verified and removed if purchased by others. No lab environment is available for this class.
This certification is designed for Partner Project Management personnel, responsible for project managing an onboarding project to Cloud iManage.
Full outline available from: https://registration.imanage.com/pages/imanage-cloud-onboarding-pm