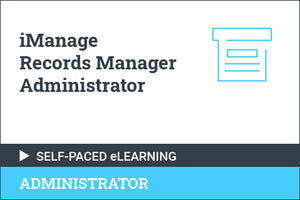 iManage Records Manager Administrator - Self Paced for Partners
This product is only available to iManage Partners - registrations will be verified and removed if purchased by others. 
Registration includes 1 lab environment - no extensions or additional lab environments will be issued. Additional lab environments can be purchased from the 'Partners' tab on https://registration.imanage.com.
This administration course prepares participants to successfully design, configure, and manage the iManage Records Manager environment. Emphasis is placed on business processes involved in managing physical and electronic documents.
Full outline available here: https://registration.imanage.com/pages/imanage-records-manager-admin-sp-outline