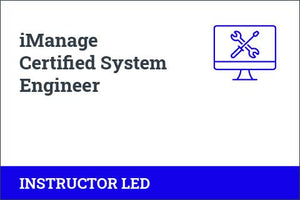 iManage Certified System Engineer UK Virtual - 2023-12-11
This class will be delivered virtually, as a webinar, beginning at 9am on December 11th, 2023 in the UK Time Zone. 
The 5-day course prepares participants to design, install, configure and manage the iManage Work 10 Server, Index Server, Communication Server for Exchange, and Windows clients, including the responsive Web client. Also covered are administrative functions using iManage Control Center.

Click here to download the course outline.

NOTE: All certification exams are now proctored through a third party. Course attendees are required to register for the exam separately.